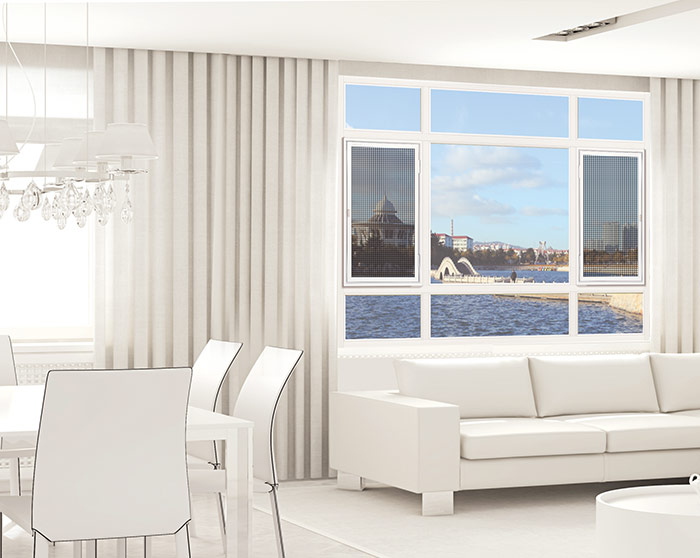 SSJ-0001 Exterior installed inner open screen window
Model No.: SSJ-0001
SSJ-0001 Exterior installed inner open screen window
1. Profile
Aluminum alloy profile with 1.2mm thickness.
Original aluminium profile, excellent toughness, long lifetime period.
Profile color: coffee, grey, white, champagne, green.
2. Window screen
Brand: SENRISE, the famous leading brand in window screens in China.
Wire diameter 0.5mm, SUS304L stainless steel security screen, 5-year quality warranty period.
3. Hardware
(1) Zinc alloy handles: user-friendly design, high tensile strength resistance, tiny and flexible to use
(2) Alluminum alloy fixed hinges with double wings: open, closed and uninstalled freely, easy to be cleaned to achieve the good ventilation effect, convenient to be stored in winter.
(3) SUS304 stainless steel screws: high intensity, non-deformation, no rust.
(4) EPDM rubber strip: anti-aging and non-deformation
(5) Quality magnetic strip
4. Specification
Outer frame width: 34.3mm
Outer frame thickness: 31.5mm
Inner frame width: 32.6mm
Inner frame thickness: 17mm
5. Function
Excellent light transmission, easy to uninstall, insect and mouse proof, anti-UV.
6. Features
(1) Applying wire diameter 0.5mm SUS 304L stainless steel screen mesh
(2) Adopting exquisitely unique design, perfect connection between quality and innovation, full of modern atmosphere
(3) It could achieve the smallest size of outer frame and good light transmission under the reasonable frame structure and high tensile strength
(4) Double frames design, fixed outer frame and open inner frame, which is featured by better safety, non-transformation, compact sealing and easy to be cleant
(5) Adopting aluminium corner brackets to make extruded models, compact connection, non-gaping, crush resistance, soild and durable
(6) Applying plain woven stainless steel wire, high tensile strength resistance, long lifetime, compact structure, easy to use, anti-static, acid&alkali resistance, corrosion resistance
(7) Applying AkzoNoble powder coating, good surface appearance, corrision resistance, anti sulfuric acid, hydrochloric acid and sodium hydroxide, smooth surface with no dirt, excellent weather resistance
7. Application
Broadly applied to casement windows, window screens is exterior installed inner open style