Aug. 15, 2019
Someone once said: two things can not be done, the same is the car, the same is the door and window. The car carries the life of the people on the car, and the doors and windows carry the safety and comfort of a home!
What's the most in hot summer? Mosquitoes, of course. In summer, the temperature is higher, mosquitoes are most likely to breed in residential areas. If the windows are opened, mosquito disturbance will inevitably occur. Close the windows and doors. It is estimated that the sultry weather will suffocate people. Even if the indoor air conditioning is opened, the windows must be properly opened for ventilation. So installing a window screen will be particularly easy. So why is the diamond screen popular with consumers?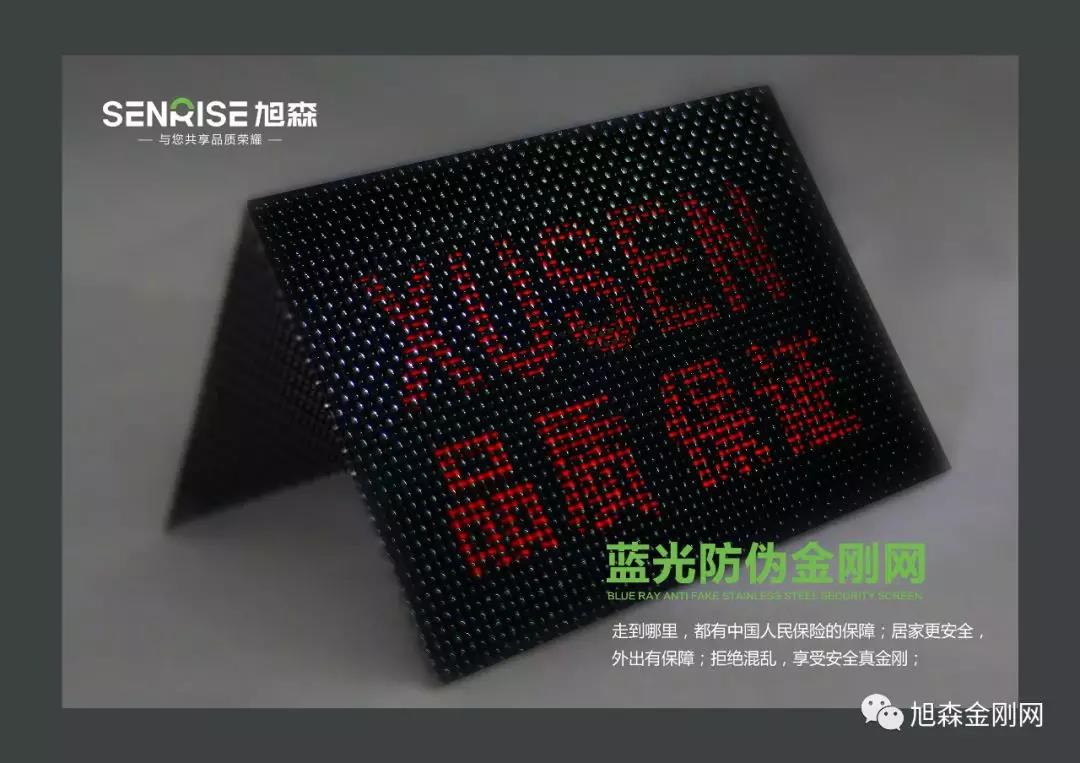 Stainless steel security mesh with its powerful functionality, and superior effect, is well received by the market. With the deepening awareness of energy conservation and environmental protection, Stainless steel security mesh window will quietly change the market pattern. Especially Xusen Stainless steel security mesh is a leader in the industry.
Stainless steel security screen windows' characteristic
Stainless steel security screen window is suitable for assembling on more novel and high-end doors and windows. It can not only prevent insects and mosquitoes, but also play the role of anti-theft, and does not affect the beauty. The net is transparent and without vertigo. Looking outdoors is like a layer of colored glass. Looking outdoors is ambiguous. Gold steel mesh has good hardness, and because of its high strength, it has enough acceptance to be fixed on the wall or on the form, and is not afraid of invasion by outsiders. High quality mesh is treated by electrophoretic paint, not afraid of damp and sun or other bad conditions of erosion. Because it is a crisscross structure, and the line diameter is only 0.8mm, it can not only prevent mosquitoes, but also enhance the anti-theft effect when ventilating and ventilating.
Advantages and function of stainless steel security screen window
Super impact resistance, anti-theft, anti-mosquito. High temperature resistance, flame retardant, high strength, strong toughness, and bright and beautiful surface, can better increase air circulation rate and sunlight irradiation. Anti-theft and anti-mosquito net, woven by stainless steel wire, the surface is sprayed with plastic treatment, the color is (black, grey and other colors). It is hidden on aluminium doors and windows to make them organic composite. The stainless steel mesh is hidden in the window frame, and the aluminium strip is sealed, beautiful and generous. It truly embodies the trinity of theft-proof, mosquito-proof, ventilation and ventilation. And emergency escape is convenient, non-obstructed and non-sheltered. Easy to clean, as long as a rag can clean very clean. Long service life, up to 15-50 years.
Nine advantages of xusen stainless steel security widnow screen.
1. Safety protection: refuse unsafe factors to prevent damage or invasion of animals such as rats, snakes, flies and mosquitoes;
2. Preventing High-altitude Falling objects: the elderly or children playing in the living room will not be in an unsafe state because of the opening of doors and windows;
3. Invisible transparency: no sense of barrier, no sense of occlusion, no sense of depression, indoor at any time to maintain bright and natural;
4. Easy to open and easy to escape: instead of the traditional fixed fence, family members are easy to flee the scene quickly in case of fire and other crises;
5. Power saving and energy saving: no air obstruction, indoor clean air at any time, reduce unnecessary air conditioning operation;
6. Easy to care: Dust and oil are easy to clean. If you use a vacuum cleaner, a sponge or a common brush, it will be as bright as new.
7. Resist ultraviolet rays: can resist up to 30% of ultraviolet rays, so that you enjoy the sunshine at the same time, but also to avoid ultraviolet damage to the skin;
8. Low-carbon environmental protection: completely made of environmental protection materials, pollution-free;
9. Wide application: applicable to all residential and villa groups.
Application of xusen stainless steel security window screen
Office Building, Villa, Residential Area - Anti-theft
Mosquito control in mountainous area, field, suburb
Unified Management of Residents or Business District-Beauty
Wet or dry cities - corrosion resistance and sun exposure